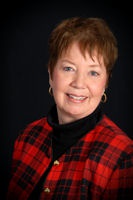 Writer/Speaker

Links to websites

Fabulous friends in the writing field:


Bob Avey, www.bobavey.com

Dan Case, www.AWOC.com

Peggy Fielding, www.peggyfielding.com

Judy Howard, www.HeavenlyPatchwork.com

Sally Jadlow, www.sallyjadlow.com

Carol Johnson, www.caroljohnson.net

Myra Johnson, www.myrajohnson.com

Jackie King, www.jacqking.com

Jim Laughter, www.galacticaxia.com

Vickie McDonough, www.vickiemcdonough.com

Romney Nesbitt, www.romneynesbitt.com

Dusty Richards, www.dustyrichards.com

Charles Sasser, www.charlessasser.com

Brad Smith, http://bradsmith.me

Carla Stewart, www.carlastewart.com

Gloria Teague, www.gloriateague.com

Michael J. Varhola, http://www.varhola.blogspot.com/


Writing Organizations:


Tulsa NightWriters, www.nightwriters.org

Oklahoma Writer's Federation, Inc., www.owfi.org


Helpful genealogy sites:


Free forms for requesting records from the National Archives:

www.archives.gov/global_pages/inquire_form.html


Free forms for a variety of genealogy needs, such as individual and family group sheets, pedigree charts, research logs, and census blanks:

http://www.genealogysearch.org/free/forms.html

http://www.cs.williams.edu/~bailey/genealogy/


Free genealogy forms and charts. Free genealogy and family tree search tips, how-to articles and online genealogy tutorials and more:

http://amberskyline.com/treasuremaps


A leading genealogical data subscription site with some free access:

http://www.Ancestry.com


A major genealogical data site with free instruction and reference help:

http://www.RootsWeb.com


A major genealogical data site sponsored by the LDS Church with instruction and reference help:

http://www.FamilySearch.org


A database of cemetery inscriptions and photos:

http://www.FindAGrave.com


A website that catalogues genealogy website links:

http://www.CyndisList.com


This easy-to-use site is dedicated to helping others locate their genealogical records, and lists numerous research sites which includes a state vital records guide and links for additional digital research.

http://searchingforgrandfathers.com/#


Useful writing aids:


A free-content multilingual encyclopedia:

http://www.wikipedia.org/


A dictionary that offers definitions from Webster's dictionary:

http://www.yourdictionary.com/


Free Internet publisher of literature, reference, and verse, providing researchers unlimited access to books and information on the net.

http://www.bartleby.com


A compilation of frequently asked questions about grammar, spelling, and word usage by Oxford word & language experts:

http://www.askoxford.com/asktheexperts


Free English, Medical, Legal, Financial and Computer dictionaries, thesaurus, acronyms, idioms, encyclopedia, a Literature Reference Library, and a search engine:
http://www.thefreedictionary.com


A free online reference source for answers to questions from a variety of encyclopedias, dictionaries, glossaries, and atlases:

http://www.answers.com


Medical research:


A government site that discusses symptoms and treatment of diseases, as well as injuries and other health events that could impact people (such as diseases from flooding).

http://www.cdc.gov/


A leading source for trustworthy medical news and information.

http://www.webmd.com


Ethnic research:


The most comprehensive directory of genealogical and historical societies on the web, including many, but not all, ethnic societies. African American, Polish, German, Swedish, French are a few of the many societies listed.

http://www.familyhistory.com/societyhall/main.asp




The Southern Mountain Ancestor Research Center, SMARC, has links for African American, Native American, Melungeon, Irish, German, and Jewish research common to the tri-state area of Georgia, North Carolina, and Tennessee.

http://www.ancestraldesigns.com/smarc/ethnic.htm




This vast website contains many ethnic sources listed on their "main menu."

http://www.CyndisList.com


This site lists a number of recommended African American resources from books to film, oral narrations, and history collections.

http://www.usa-people-search.com/content-recommended-africa n-american-readings.aspx



contact the author: mcarolyn.steele@cox.net

M. Carolyn Steele

This page is devoted
to a few of the many great websites designed to entertain and inform. Scroll to find sites for authors, as well as sites for genealogy and ethnic research and helpful writing aids.